Official Logo Policy
The Buffalo State logo is the foundational element for the institution's visual identity program and is available for general campus use. Iconic Rockwell Hall clock tower is the focal point of the Buffalo State crest. The official Buffalo State College logo is available for use by the entire campus.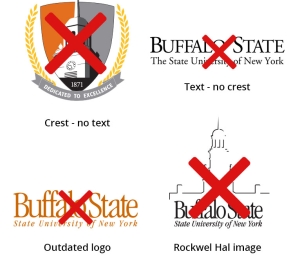 Unauthorized Logo Usage
Official Buffalo State College crest marks may not be altered in any way and should always be used in its original proportions and configurations. 
The logo must always be used as a complete image. 
Customization of the official Buffalo State crest mark is not permitted.
Do not separate the graphic elements from the text elements. 
Alterations—narrowing, heightening, widening, lengthening the logo are strictly prohibited. 
No ornamentation or words may be added or deleted.
Unauthorized logos found on official Buffalo State websites or social media presences will be removed.
 
Specialty Logos
The Marketing and Communications Office reserves the right to create and use specialized icons and logos for specific marketing campaigns and purposes. These icons and logos are restricted for use by the Marketing and Communications Office only.
Questions about logo policy? 
Contact Jerod Dahlgren, interim executive director
Phone: 716-878-5569
Email: dahlgrjt@buffalostate.edu 
Outside Entity Use
The Buffalo State College name, official crest marks, and logos may not be used by any entity outside of the college or any department within the college for commercial or promotional advertising purposes, or in any manner that states or implies an endorsement, without prior written approval from the college. Approval is granted on a case-by-case basis. 
The college name/marks/logos may not be used to endorse or promote a private group or business unless authorized by a sponsorship agreement with Buffalo State College. 
Need more information? 
Contact the Trademark Licensing Office
Merchandise Policy
Only official crest marks bearing the trademark symbol are to be used on merchandise such as T-shirts, coffee mugs, or other products. This applies to products purchased by Buffalo State or by any auxiliary or ancillary organization of the college, whether those products are produced for use by the college or for retail sale. 
Buffalo State faculty and staff wishing to order merchandise must work with the Finance and Management Office to ensure that you are working with a licensed vendor.
Questions about trademark licensing or the appropriate use of Buffalo State colors and crest marks for merchandise:
Contact Jill Powell, senior assistant to the vice president for finance and management.
Phone: 716-878-3561
Email: powellja@buffalostate.edu