Video Services
Have a small project or a large multi-camera project? Our video team in Marketing and Communications is here to help. Our professional staff will be there from start to finish to help you achieve your objective.
How We Can Help
Our video team offers video and audio services for:
Television broadcasting
DVD production
YouTube
PowerPoint
Closed-captioned webstream
Video to accompany course material within Blackboard
Event production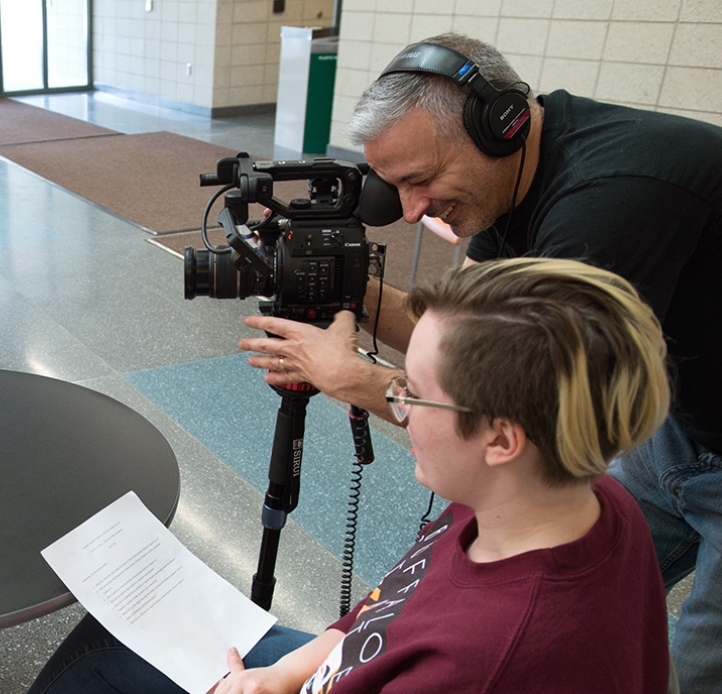 Video Processes
Our video team is experienced at managing projects from the very beginning to ensure a smooth production from concept to completion. From scripting, storyboarding, location scouting/site surveys, and talent search—our team will make sure all pre-production details of your project are covered. 
The Script
Your scripts set the tone for the entire production. We are available to help communicate your ideas while adding the creative flair needed to set your project apart. Whether you already have a finished script or we create one for you, our video team will make your vision a reality.
Marketing and Communications combines creativity and technology to help departments and organizations achieve success. To ensure superior broadcast quality and to strengthen the quality of the shoot for your video production, we offer:
3-chip digital cameras 
Jib Arms
Lighting packages
Wireless microphones
Tape formats: 
Beta SP 
DVC Pro
Mini-DV 
VHS
S-VHS
Our post-production edit suites deliver the highest quality to Buffalo State College faculty and staff members and by incorporating the latest digital technology with our experience, you are assured an unsurpassed finished product.
Our state-of-the-art, non-linear editing features the Adobe Premiere non-linear digital editing system. This system increases our power to create and deliver a superior final product. Our experienced editors use the latest in image manipulation software including Photoshop and After Effects.
Master copy formats available:
DVD 
Web file (i.e. H264, .avi, .mov, .wma, or F4U).
DVD Production
The DVD standard has become a viable option for your video projects.
Our capabilities include anything you would want for a DVD title. From a simple "video on a disk" to an advanced interactive experience, Marketing and Communications can do it all. 
Motion menus, subtitles, closed captioning, web-enabling, and dual-layer programming are just a few of the capabilities we have available in-house.
Marketing and Communications has two television studios to handle many types of productions. We are a tapeless facility. We have the ability to record any of our productions for use in our post-production facilities or for uplink via satellite truck to a large television network.
Studio A: 27' x 22' studio for small presentation or green screening.
Studio B:  43' x 28' studio with Sonex acoustics, three cameras, and a full lighting package.
Our facility features the following broadcast-level equipment:
Grass Valley Karrera switcher 
Deko character generator 
Grass Valley K2 Summit & Solo Media Servers 
Grass Valley Dyno Video Replay System 
Hitachi cameras 
Harris Router
Autoscript Teleprompters
ClearCom Intercoms
We feature:
Tascam M-600 24 by 16 by 2 mixing console
Beringer processing
Yamaha digital equalization
4-track record capability on a Otari MX 50/50 Recorder
Two independent production studios
Separate narration booth
Audio for video production/post-production support
Narration tracks for video and multimedia production
Music and sound effects beds and tracks
24-track record capabilities
Questions about audio production? 
Contact Dave Ross, Chief TV Engineer
Phone: 716-878-4921
Email: rossdj@buffalostate.edu
Our remote production capabilities allow faculty or staff members the ability to have large events recorded and/or uplinked. Remote productions could be on campus or anywhere in Western New York, depending on travel arrangements.
Our current fiber connections allow our television studio equipment to be used in the field:
Rockwell Hall
Houston Gym
Warren Enters Theatre
Student Union 
Field Production Equipment:
Panasonic camcorder
Lowell light kit
Audio mixer for microphone or other source inputs 
Questions about remote production? 
Contact Ken Giangreco, Manager, Video Production
Phone: 716-878-4922
Email: giangrkc@buffalostate.edu
Audio or video encoding is the conversion of a media from an analog to a digital format, which can be playable on a computer/internet.
Your Recorded Material
We can encode your department's video assets in your choice of formats and specifically tailor bandwidth usage to fit your needs. After encoding, your video can be uploaded to one of the college's servers for distribution on Blackboard and other websites. We use all the latest streaming media programming technologies (ex., Adobe Media Encoder).
Available Encoded Formats
Live Material
Our Sonic Foundry MediaSite Video Capture device allows for webstreaming, which allows users to watch your event live.
Self-Manage Your Media with Ensemble
Our Ensemble media server allows faculty members to manage and publish their audio and video files into an LMS such as Blackboard and other websites. It also allows students to submit audio and video files to a dropbox for instructors to review or share with other students.  
Request Ensemble service/Training